LVP Flooring: Your Ultimate Vinyl Flooring Guide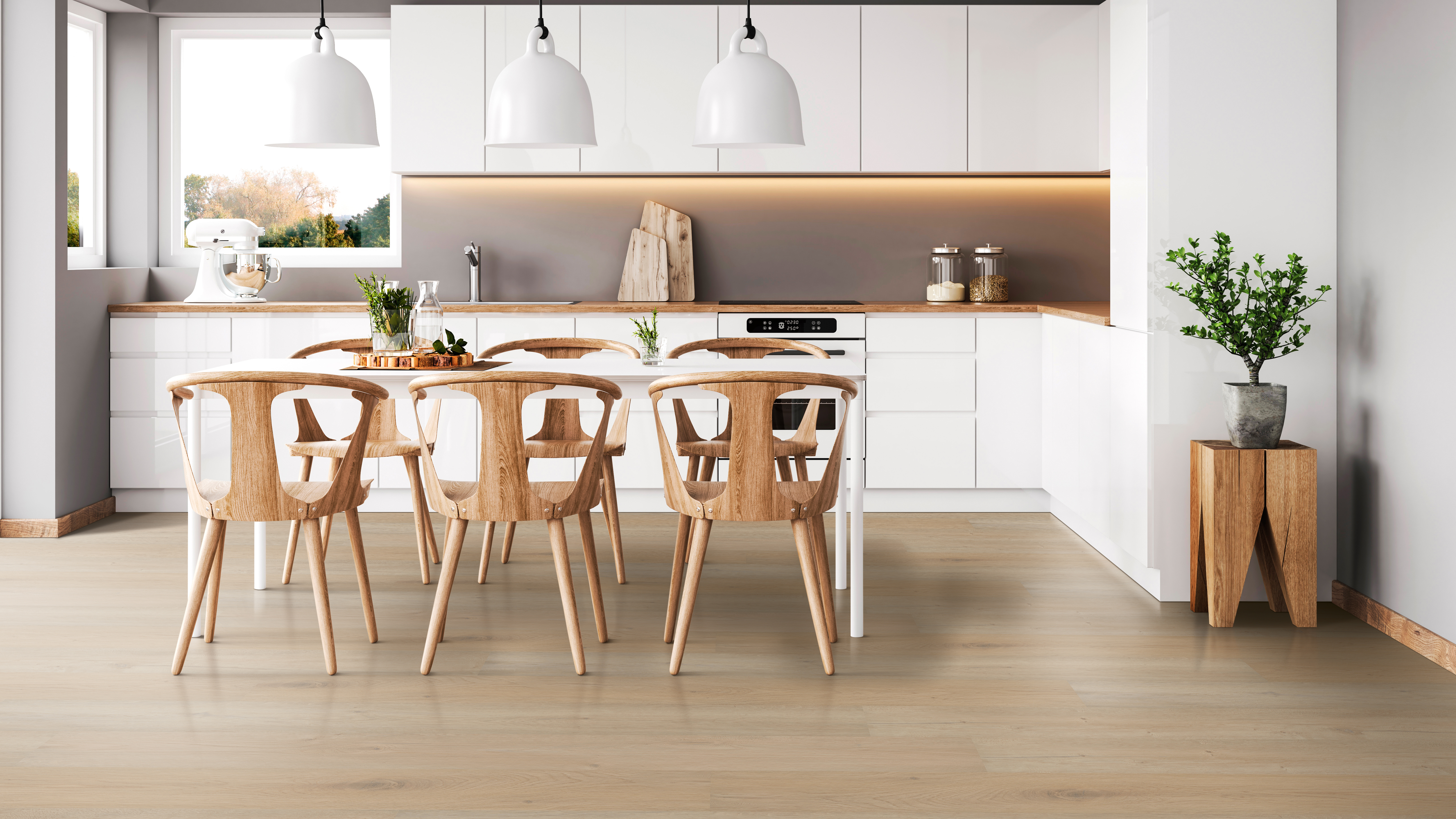 LVP flooring, or Luxury Vinyl Plank flooring, is luxury vinyl flooring made up of planks instead of one large sheet of vinyl or individual tiles. LVP flooring is popular for the following reasons:
The luxury vinyl flooring market has taken off primarily due to many of these benefits as homeowners look for better floors to match their lifestyle. Able to withstand heavy foot traffic, scratches, and spills, luxury vinyl planks are the ideal flooring solution for any home design. Plus, who doesn't want a gorgeous wood-look plank to elevate their interiors?
We'll go into more detail about why you should choose LVP floors for your next home renovation below.
Characteristics of Hardwood
The growing popularity of LVP flooring isn't just about the low cost and easy install: the floors themselves are beautiful! High-quality LVP can resemble authentic hardwood down to the coloration and grain patterns with embossed-in-register technology and an advanced printing process. Some brands are so good at mimicking the look and feel of natural wood flooring in planks of varying colors and thickness that your friends might not believe that your LVP floors are actually luxury vinyl.
Easy to Install
LVP floors have a simple click-lock system that makes these floors easy for professionals to install. The benefit of having luxury vinyl planks that click together, as opposed to one large sheet of vinyl, is that they can better lock out moisture. Due to their painless installation process, some experienced homeowners often like to tackle this project themselves. Repairs to a floor with planks (versus one large sheet that would have to be ripped up) are more accessible, too.
Waterproof
All luxury vinyl plank floors are water-resistant to some extent, but even better, most LVP floors on the marketplace are waterproof, meaning they can withstand small floods and household spills. This attribute makes them a great addition to your home. LVP floors are perfect for the whole house, especially kitchens, entryways, basements, or any room with high foot traffic that is prone to moisture, leaks, or spills. Another bonus of LVP floors? They're easy to clean.
Durable
One of the most popular aspects of luxury vinyl planks is their ability to withstand high traffic areas, thanks to their incredible wear layer. This product is an excellent option for homes with small children and pets running underfoot, as the rigid core floors are constructed out of plastic composite with various strengthening agents.
Thick & Insulating
LVP flooring, including EVP floors, is also a great buy because of the cushion and insulation that this type of flooring provides. Unlike cheap, glue-down vinyl floors, LVP flooring won't curl up over time. And because of the thickness of luxury vinyl planks, there is more protection offered from your home's subfloor. If cheap vinyl is layered on a concrete subfloor, for example, the top of the floor is bound to be much colder. With LVP flooring, your feet are more cushioned—and warm!
Low-Cost
So, what do luxury vinyl planks cost, you might be wondering? Often, upgrading your floors sounds like a great idea in theory, but it might not be within the budget. Luckily, LVP (and EVP) floors are an excellent choice for those looking to make an economical purchase! LVP floors are not as expensive as natural hardwood or tile, and, once installed, they require very little upkeep to keep them looking new for years to come.
Wait, so what's EVP then?
EVP, or Engineered Vinyl Plank, is a subset of LVF. Many brands of EVP look uncannily like hardwood floors. EVP floors are also waterproof and durable, as they are constructed in multiple layers.
LVP vs. LVT
So, what's the difference between luxury vinyl planks and luxury vinyl tiles? While both flooring products are composed of the same four layers of plastic, the two vary depending on what natural flooring they're mimicking. Luxury vinyl planks are constructed in plank-style to resemble traditional hardwood flooring. Luxury vinyl tiles, on the other hand, are designed in a tile shape and often mimic natural stone, ceramic, and porcelain tiles.